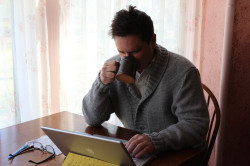 Mark Vincent LaPolla is an American writer, poet and scholar. He is best known for his early short stories and the Omniverse, a science fiction/fantasy series about Bill and Carey, two refugees from Silicon Valley, who accidentally buy a magical, often haunted, inn.
If you would like to read The Inn at the Crossroads, book one of the Omiverse series, serialized on Substack, please click here.
Mr. LaPolla's writing reflects his eclectic taste in literature from Magical Realism to Science Fiction/Fantasy, with Murder Mysteries and Hard Boiled Detective Stories sprinkled in. He has been influenced by Marion Zimmer Bradley, Roger Zelazny, J. R. R. Tolkien, Ray Bradbury, Terry Pratchett and Christopher Moore, as well as Italo Calvino, Isabel Allende, P. G. Wodehouse, William Makepeace Thackeray and R. Austin Freeman.
His writing has also been informed by his academic careers in linguistics, computer science, psychology and artificial intelligence research as well as his experience in high tech start-ups.